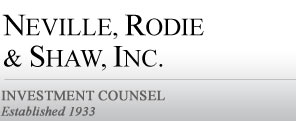 Reed W. Choate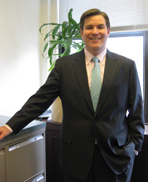 Reed Choate joined Neville, Rodie & Shaw in 2011. He serves as a portfolio manager managing equity and fixed income portfolios for high net worth individuals, foundations, trusts, and not-for-profits. Prior to joining Neville, Rodie & Shaw, Reed spent 11 years as a senior portfolio manager at BNY Mellon Wealth Management. While at BNY Mellon, Reed was responsible for the management of $275mm for individuals and foundations.
Reed graduated from Stetson University in 2000, and currently lives in Rumson, NJ with his wife and three young daughters. He currently serves as a Trustee for the New York City Rescue Mission and is on the Heart Advisory Council for the American Heart Association. Reed enjoys spending time with his family, playing golf, offshore fishing and squash.
Reed has been quoted in many financial publications, including The Wall Street Journal and Barron's; he has also appeared on Fox Business News.
Neville, Rodie & Shaw, Inc. | 200 Madison Avenue, 20th Floor | New York, NY 10016 | Phone: 212.725.1440 | Fax: 212.689.8746