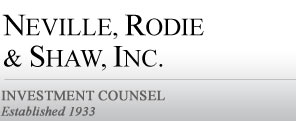 Investment Philosophy
Our investment doctrine is consistently focused on the protection of each of our client's resources and the enhancement of annualized returns on their invested assets. Equities form the cornerstone of our philosophy, based upon our conviction that stocks offer the best long-term potential for building wealth and enhancing purchasing power. We recognize the need for stability and current income for many clients, and we complement our core equity holdings with quality fixed-income instruments of varying maturities.
Client Objectives
Our experience in creating and maintaining individually managed portfolios in harmony with the specific preferences, risk profiles, and financial requirements of our clients forms the core of our expertise. We recognize that there may be important differences amongst the investment needs and objectives of each client, based upon specific circumstances. It is our responsibility to help achieve these objectives without assuming investment risks which are inappropriate for the client. It is also essential that we continually determine what each client requires as to information and communications and dedicate our professional and support staffs to meeting these essential needs. Client confidence rests importantly on the conviction that we have their interests and concerns foremost in our priorities and that we are committed to providing guidance in adapting to changing needs with appropriate portfolio adjustments.
Asset Allocation
A century of capital market history has conclusively demonstrated that allocation of a portfolio's assets among various asset categories such as cash, bonds, and stocks represents one of the most important influences upon the return of long-term investments. This decision also weighs importantly on the portfolio's volatility, risk of loss due to inflation and level of income generation. As a result, asset allocation decisions are reviewed regularly, both within the firm and with our clients.
Neville, Rodie & Shaw, Inc. | 200 Madison Avenue, 20th Floor | New York, NY 10016 | Phone: 212.725.1440 | Fax: 212.689.8746