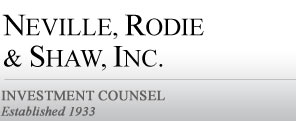 Disclaimer
Neville, Rodie & Shaw, Inc. (hereinafter NRS) is a registered investment adviser under the Investment Advisers Act of 1940. Registration with the SEC does not imply a certain level of skill or training. This website is not a solicitation or offer to sell advisory services. This website is limited to providing you with general information on our services and philosophy and does not constitute a complete description of either.
NRS does not render or offer to render personalized investment advice through this website. NRS may only transact business or render personalized investment advice in those states where we are registered or where an exemption or exclusion from such registration exists.
All written content is for informational purposes only. Proprietary papers and writings are the opinions of NRS. Other articles, links, and information presented on this website are obtained from sources believed to be reliable, but they are for informational purposes only and NRS does not guarantee their timeliness or accuracy. The material on this site is subject to change without notice. Clients should consult their adviser with regard to any questions they may have. Please be aware that there are risks associated with all investments and investment strategies. Past performance is not necessarily a guide to future performance.
Links to Third Party Websites:
This site may contain links to other websites, including links to the websites of companies that provide related information, products and services. Such external Internet addresses contain information created, published, maintained or otherwise posted by institutions or organizations independent to NRS. These links are provided solely for your convenience and the inclusion of such links does not necessarily imply an affiliation, sponsorship or endorsement. NRS does not endorse, approve certify or control these external Internet addresses and does not guarantee or assume responsibility for the accuracy, completeness, efficacy, timeliness, or correct sequencing of information located at such addresses. Use of any information obtained from such addresses is voluntary, and reliance on it should be undertaken only after an independent review of its accuracy, completeness, efficacy, timeliness and sequencing.
Neville, Rodie & Shaw, Inc. | 200 Madison Avenue, 20th Floor | New York, NY 10016 | Phone: 212.725.1440 | Fax: 212.689.8746