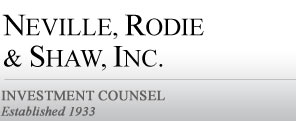 Frequently Asked Questions
What is the history of the firm?
Neville, Rodie & Shaw was founded in 1933 by Gregg Neville and W. Stuart Rodie. In 1966, A. Vere Shaw, generally credited with initiating the concept of investment counsel, dissolved his firm and joined to become Neville, Rodie & Shaw. Since inception, the firm has been located in New York City but serves a diverse group of individual and institutional investors residing in numerous states and several foreign countries. Neville, Rodie & Shaw is a charter member of The Investment Adviser Association and is registered with The Securities and Exchange Commission.
Who owns Neville, Rodie & Shaw?
Neville, Rodie & Shaw is wholly owned by the active principals of the firm. There is no outside ownership of the firm.
Who are our clients?
Neville, Rodie & Shaw manages investment portfolios for individuals and families including their personal, trust, retirement and estate accounts. Institutional clients include assets of religious communities, charitable foundations, endowment funds and ERISA accounts.
What is your investment approach?
Because our client's portfolios are separately managed, our investment approach is best characterized as one that tailors each to the individual client's objective, preferences, risk profile, financial needs and time horizon. Changes in investment approach may occur as individual circumstances shift.

How are we compensated?
We collect a management fee based on the market value of the account computed on a semi-annual or quarterly basis. Most clients authorize the deduction of the management fee directly from their custody account.
Do you have an account size minimum?
Yes, we generally require an account minimum of $1,000,000.00.
How often will Neville, Rodie & Shaw send reports to clients?
We typically send written reports on a quarterly basis. Our quarterly reports include a detailed appraisal of the client's portfolio, a performance report and a "Quarterly Review and Outlook" piece that outlines our thoughts on the state of the markets, economy, and geo-political picture.
Where will my account be held?
Clients may use any custodian they choose to hold their assets. We have relationships with numerous custodians and will gladly offer clients assistance in choosing a custodian that would best suit their needs.
Can you arrange for regular income remittances or transfers of cash to be made from my account?
Yes, we can arrange with your custodian to have a fixed dollar amount transferred to you on a monthly or quarterly basis. We can also set-up monthly or quarterly income distributions, which would transfer all interest and dividends to you for that time period.
Where can I find your investment results?
Investment results can be provided upon request.
What is the process to become a client of Neville, Rodie & Shaw?
Contact us, either through e-mail or phone and you will be put in touch with a portfolio manager who can set-up either a telephone conversation or a face-to-face meeting to determine how Neville, Rodie & Shaw can best assist in establishing a new account and/or transfer assets from a former manager.
Neville, Rodie & Shaw, Inc. | 200 Madison Avenue, 20th Floor | New York, NY 10016 | Phone: 212.725.1440 | Fax: 212.689.8746