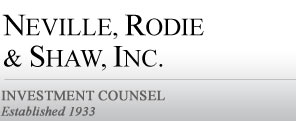 Edwin F. LeGard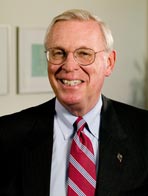 Ed joined the Neville, Rodie & Shaw team in February 2002. He has compiled over 40 years of experience in the investment management field. He has previously been associated with trust companies and mutual fund management firms, as well as other private investment counseling organizations. Ed's most recent affiliations were five years with Eagle Growth Investors and fifteen years as a Managing Director of E. M. Warburg, Pincus, where he also served as President of Warburg, Pincus Asset Management.
With an extensive involvement in research and portfolio planning and management for individuals and family groups, as well as tax-exempt entities, Ed's focus is on equity and balanced accounts.
Ed is a graduate of the University of Virginia, receiving a B.S. in Finance in 1962. A resident of New Canaan, Connecticut, Ed is an avid golfer and has been active in many non-business organizations, including serving as president of the Union League Club in New York City.
Neville, Rodie & Shaw, Inc. | 200 Madison Avenue, 20th Floor | New York, NY 10016 | Phone: 212.725.1440 | Fax: 212.689.8746